A simple summer fruit salad with a delicious drizzle of rum and simple syrup made for outdoor entertaining.
During the hot summer months what's more refreshing than a glass of rose, mojito or a tropical rum punch that transports you to an exotic island in your mind? A fruit salad that mimics the flavor of a mojito while still being sorta healthy and crowd pleasing.
When I tossed this recipe together, I definitely had summer celebrations in mind: Canada Day, Fourth of July, Labor Day and every and every backyard fiesta you throw this year. There's very minimal cooking (which can be avoided if you buy pre-made simple syrup), it can be made a couple of hours in advanced and it's pretty to look at.
I'm kind of having a hard time believing it's already July. Before we know it, it'll be late August and everyone will be in a pumpkin frenzy. (Aside from last weeks' pumpkin bread recipe, I might already have two more pumpkin recipes in the pipeline. #sorrynotsorry)
I know I probably sound like a broken record, but in order to survive the hot summer California weather, no-cook (or minimal cook) recipes are vital.
Whether it means serving up a super simple heirloom tomato salad with feta, or tossing together a bunch of seafood on a pot over a hot fire to make a cajun seafood boil, it's all about simplicity when it comes to summertime entertaining. (And we can't forget dessert—these summer berry shortbread parfaits require zero cooking or baking, and look absolutely gorgeous out on a buffet table.)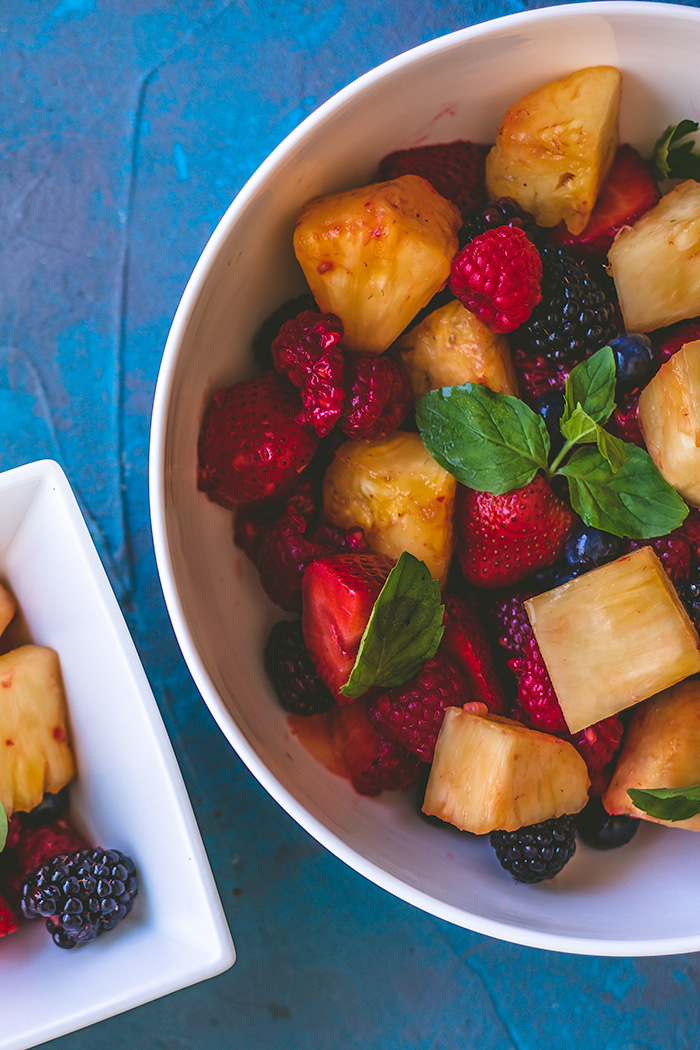 Mojito Fruit Salad
A simple summer fruit salad with a delicious drizzle of rum and simple syrup made for outdoor entertaining.
ingredients:
1 1/4 cups simple syrup
3 tablespoons fresh lime juice
2 large mangoes, about 2 pounds with seed
1 pineapple, cut into 1-inch chunks
6 cups mixed raspberries, strawberries, and blackberries
1/2 cup fresh mint leaves
1 tablespoon rum
instructions:
How to cook Mojito Fruit Salad
Put the syrup in a saucepan over low heat, cover, and bring just to a simmer. Pour into a heatproof bowl, stir in the lime juice, and set aside to cool to room temperature. Cover and refrigerate until well chilled, at least 2 hours.
To make the salad: Peel and pit the mangoes, and cut it into 1-inch chunks. Cut the pineapple into 1-inch chunks.. Hull and halve the strawberries and rinse all of the berries. In a large glass or ceramic bowl, combine the fruit and toss to mix. Roughly chop the mint, setting aside a few nice small leaves for garnish. Drizzle with the syrup, scatter with the chopped mint, and toss very gently, careful not to bruise any of the fruit.
Drizzle with the rum and garnish with the reserved mint leaves.