Refreshing watermelon gazpacho uses traditional ingredients with a few unexpected, but delicious tweaks. Serve it as a starter for any Canada Day, Fourth of July, or Labor Day celebrations.
Last week we had horrifically hot weather. I'm talking triple digit, perfect fire season kind of temperatures. Even with air conditioning, cooking is the last thing either my husband or I want to do, so we usually settle for boring, no-fuss salads that aren't very satisfying or flavorful.
Years ago, there was a local restaurant that served the most refreshing watermelon-cucumber gazpacho throughout the summertime. Once the restaurant closed for good, I sort of gave up ever enjoying the unique gazpacho again. In fact, I hadn't thought of that watermelon gazpacho in quite a long time. Then, on day two of the heatwave, I was craving it like crazy. I closed my eyes and could imagine all of the cool, refreshing flavors and dig through the vegetable bin to see if I had cucumbers or any watermelon left.
Any type of gazpacho is King when it comes to summertime entertaining. It can be made several hours in advanced and everyone will enjoy it, even fussy children who claim to hate everything. I have yet to meet a single human who won't eat watermelon.
Traditionally, gazpacho is a raw Spanish soup that's served cold. Most of the gazpacho's that I've enjoyed over the years consisted of bread, tomatoes, cucumbers, olive oil, vinegar and garlic. So this version strays pretty far from tradition, plus it's gluten free because I opted not to include bread crumbs like the restaurant did.
Another subtle tweak I made was adding a jalapeño and a bit of hot sauce to the watermelon, cucumber and tomato mixture. Since there is so much puréed watermelon, the jalapeño adds a very subtle spice at the very end of each spoonful of soup.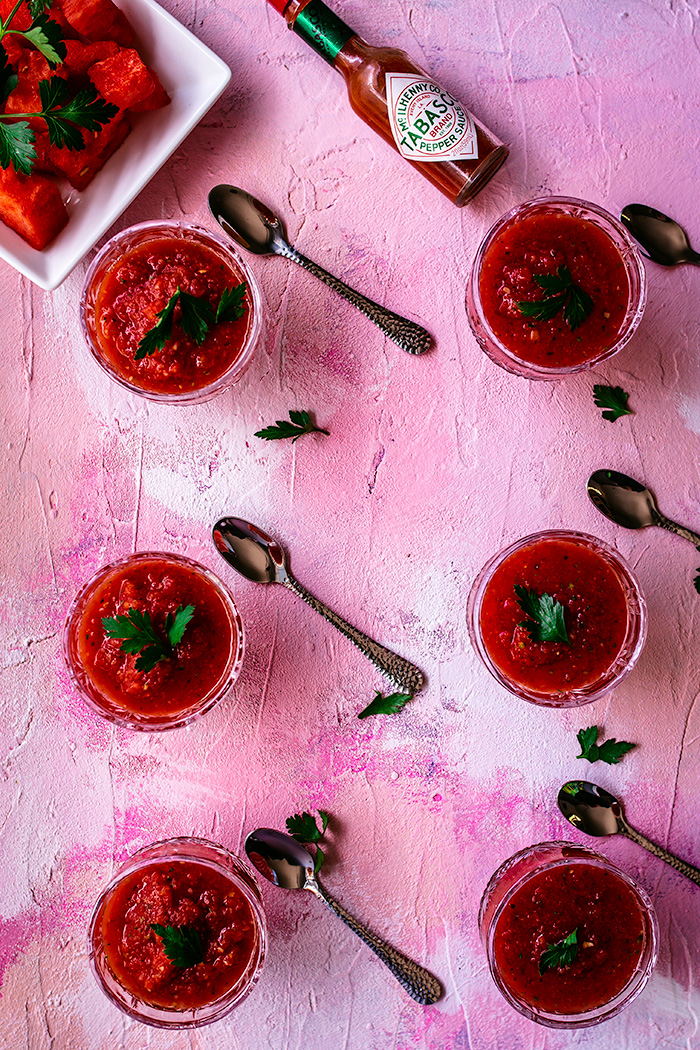 WATERMELON GAZPACHO
prep time: 2 hour
cook time:
total time: 2 H
ingredients:
3 - 4 pound seedless watermelon, roughly chopped
4 English cucumbers, peeled and roughly chopped
1 jalapeño, seeded and roughly chopped
1 bunch cilañto
3 teaspoons hot sauce
2 red bell peppers, seeded and roughly chopped
3 cups roughly chopped tomatoes
blackberry vinaigrette, drizzle (optional)
fine sea salt, to taste
ground black pepper, to taste
cilantro, to taste
instructions:
How to cook WATERMELON GAZPACHO
In a large bowl, combine watermelon, cucumbers, jalapeño, cilantro, hot sauces bell peppers, tomatoes, vinaigrette, salt and pepper. Then, working in batches or with an immersion blender, purée until desired chunkiness
Transfer gazpacho to a large serving bowl or individual cups, covered, and refrigerate until it's very cold, at least 1 hour or up to 5 hours.