filiate Disclosure: Occasionally we may provide links to products that are affiliate links to products and providers that we personally use and recommend. If you choose to click on a link and purchase a product, we wanted to let you know that we'll get a commission from the sale. Thanks for supporting this blog! :)
Smoky, tender pork chops are finished off with a tropical-inspired caramelized pineapple glaze perfect for summertime entertaining.
Pineapple Glazed Pork Chops
It's starting to feel like summertime on the beautiful California Central Coast. I find myself gravitating towards pouring myself a glass (or two) of my favorite rose or vermentino in place of my usual Cabernet Sauvignon or Syrah. The change in weather also has an impact on my cooking and what I am craving for dinner.
Both my husband and father are pork eaters, and whenever I ask either of them if they want anything special for dinner, they almost always give me one of two answers: steak or pork chops. I don't cook either of them often. It's not because I don't know how to cook them, it's just that there are other things I would prefer to eat. So, when I was brainstorming recipe ideas I wanted to add to the pipeline, I asked my husband if he wouldn't mind helping me craft a delicious pork chop recipe that not only screams summer, but would also be cooked to perfection on the Traeger.
Today's grilled pork chop recipe was intended to be served along side Monday's grilled asparagus with spicy butter. You might be thinking asparagus and pork chops don't sound too appetizing, but trust me on this one. The spices in the pineapple glaze are matched with the spicy butter, so that's basically a win, right?
This recipe is incredibly straightforward. There's no gimmicks or complicated steps, which is surprising given how tender and flavorful the pork chops are. The secret? Properly salting the pork while it's resting prior to going on the grill.
I used to have a fear of salt. I would use it sparingly, not quite understanding at the time that salt has the ability to take a good dish and make it an amazing dish. Learning about how to properly salt pork chops is what converted me into someone who now enjoys both cooking and eating pork chops. Prior to grilling these grilled pork chops with pineapple glaze, I salted the pork chops for an hour.
The glaze is just as easy to put together, and after about 15 minutes simmering on the stove it's ready to be brushed over the chops the last half of grilling.
For the pineapple glazed grilled pork chops, I opened a bottle of lightly oaked chardonnay. (I know, my least favorite wine, probably, ever). Hahn Winery Santa Lucia Highlands Chardonnay 2017 ($25) had enough acidity and tropical fruit notes that when enjoyed alongside these pork chops and the pineapple sauce, I almost forgot I was drinking Chardonnay.
pork, Traeger recipe
main dish
american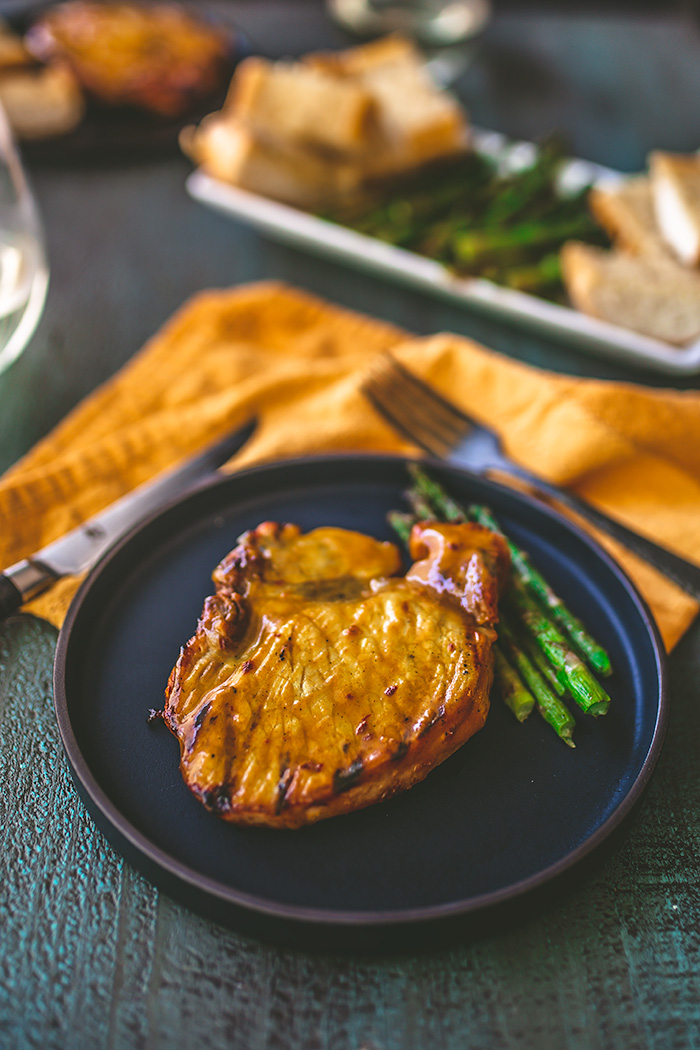 Pineapple-Ginger Glazed Pork Chops
Inspired by Hawaiian-flavors, bone-in pork chops are grilled on a Traeger grill, and coated with a bright pineapple-ginger glaze. Serve with garlic bread.
prep time: 10 M
cook time: 25 M
total time: 35 M
ingredients:
1/2 cup pineapple juice
1/4 cup honey
1/4 cup rice wine vinegar
1/4 cup dijon mustard
2 teaspoons red pepper flakes
1/2 teaspoon sesame oil
1/2 teaspoon ground turmeric
1 tablespoon minced fresh ginger
4 bone-in pork chops, approximately 1" thick
Salt
instructions:
How to cook Pineapple-Ginger Glazed Pork Chops
1. In a saucepan over medium heat, add the pineapple juice, honey, vinegar, mustard, red pepper flakes, sesame oil, turmeric, fresh ginger to a simmer until reduced by half. Divide the mixture in half and set one aside.
Generously season the pork.
When ready to cook, start the Traeger grill on smoke with the lid open until the fire is established, then set the temperature to high and preheat, with lid closed (about 10-15 minutes). Place the seasoned pork chops on the outer rim of the grill to get the most direct heat. Cook for 4 minutes, then flip. With a silicone pastry brush, coat the pork chops generously with the pineapple-ginger glaze. Repeat the process until the pork chops are cooked to an internal temperature of 130º and the sauce has begun to caramelize.
Transfer the pork chops to a cutting board and rest for 10 minutes prior to serving with the rest of the sauce. Serve with grilled asparagus and garlic bread.
Sodium (milligrams)
639.17
Cholesterol (grams)
131.88