After sharing last week's German potato salad, I knew I wanted to make an easy, but impressive rack of lamb recipe to go along with it — and just in time for Easter Sunday!
While my family has a tendency to serve ham for Easter, this year I wanted to go back to the basics and create something that anyone can make. Since we tend to start having really great weather this time of year, I wanted to take this recipe outdoors and onto the Traeger just to give this rack of lamb a boost in flavor. If you don't have a Trager, not to worry. You can roast the lamb in your oven, though it won't have the same subtle smoky flavors that the one cooked in the Traeger will have.
For a long time, cooking a rack of lamb really intimidated me, but then something clicked within my brain and I realized it's really not a fussy cut of meat to cook. One of the very first recipes I ever posted was a herb crusted rack of lamb, and yes, today I am sharing yet another herb crusted rack of lamb recipe, but today's recipe takes that classic recipe in an entirely different direction.
This version has a thick crust made of panko bread crumbs which are sautéed with garlic, fresh thyme and fresh marjoram. It might seem unnecessary to pre-cook the panko mixture, but the end result is a delicious, crunchy crust.
The lamb is also browned on the stove prior to being moved outside onto the grill, and while I only cooked the fat-side of the rack of lamb, you can brown it on all four sides for piece of mind and know that the lamb is entirely cooked all the way through.
traeger recipe, lamb, easter
main dish
American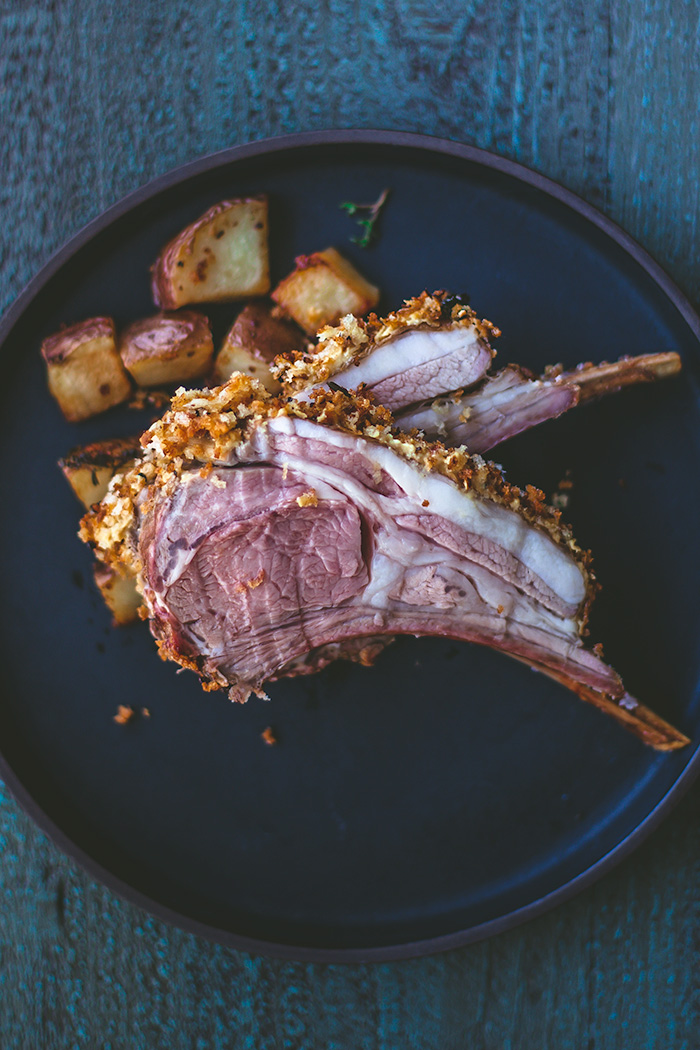 Dijon Herb Crusted Rack of Lamb
An easy, but impressive rack of lamb recipe to go along with it — and just in time for Easter Sunday!
prep time: 15 M
cook time: 30 M
total time: 45 M
ingredients:
1/2 cup panko bread crumbs
1 tablespoon extra-virgin olive oil
1 tablespoon minced fresh thyme
1/2 teaspoon minced fresh marjoram
3 garlic cloves, minced
salt and pepper
1 tablespoon minced fresh flat-leaf parsley
zest of 1 lemon
1 2-pound rack of lamb, frenched
1/4 cup Dijon mustard
instructions:
How to cook Dijon Herb Crusted Rack of Lamb
In a bowl, combine bread crumbs, oil, garlic, thyme, marjoram, salt and pepper.
In a large fry pan over medium-low heat, heat 1/2 teaspoon olive oil and add bread crumb mixture and cook until golden brown and fragrant. Remove from heat. Add parsley and lemon zest.
In same fry pan, heat enough oil to coat the pan. Once the oil is nearly smoking, add the lamb, fat side down, and cooked until golden brown. (You may brown on all sides of you wish, using tongs to hold the rack up.) Remove lamb from heat and cool for 5 minutes.
While the lamb is resting, start the Traeger grill on Smoke with the lid open until the fire is established. Set the temperature to 350º and preheat lid closed for 10-15 minutes.
Brush lamb with mustard and generously coat with the cooked bread mixture.
Place the lamb directly on the grill grate, bone side down and cook for 30 minutes or until the internal temperature reaches 120º when an instant-read thermometer is inserted into the thickest part of the lamb. Remove from grill and rest for 10-15 minutes prior to serving.
Sodium (milligrams)
758.48
Cholesterol (grams)
206.38
Aside from this dijon herb crusted rack of lamb, what are you serving for Easter dinner?