Having friends over to enjoy the warmer weather? Then you've gotta whip up a batch of this subtlety sweet tropical dip, a tasty way to dress up seasonal fruit or graham crackers.
The last two weeks have been rough, people. Usually after my TBI treatment I am down for about a week, but this time I was knocked on my rear for a solid TWO weeks. Not okay in the slightest. I had no intention of sharing two broccoli recipes in one week (broccoli cheddar soup and chicken, ham and broccoli casserole), but I felt so crummy the week before that the thought of just dragging out my food processor for today's recipe sent my body into a downward spiral. I am talking about body aches and joint pain that 80-year olds typically complain about. Fortunately I've got a pretty rad support team behind me, so this week's recipes I owe all to them.
While I was down for the count, I pretty much survived on fresh seasonal fruit such as strawberries, chunks of pineapple, blueberries (not my favorite) and grapes. I probably lost 3 pounds on my radical fruit-only diet, which would have been a good thing if I was actually trying to lose weight, which I was not. One afternoon as I was lying around like a sloth, I recalled a delicious fruit dip I had made a few weeks back when I shared my ultimate cheese board to serve at a potluck-style winemakers dinner. Rather than share my own recipe, I linked to a random recipe I had found on Pinterest but thanks to today's post, it's been updated… it's all about the back links, people.
While I can't recall where I first tasted this simple fruit dip, it's something I have a tendency to make during the spring and summer when fruit is at it's very best. I know I would have loved this as a kid coming straight out of the swimming pool or as a snack deck side at a swim meet when it was all about junk food and baked potatoes (are baked potatoes junk food??)
This sweet fruit dip makes a great addition or centerpiece to any charcuterie board or fruit platter, and it takes less than a minute to make when you dump all of the ingredients into a food processor or stand mixer. You can make the dip moments before guests are due to arrive or make it ahead and keep it chilled until ready to be enjoyed.
Yes, this recipe is incredibly simple, but that doesn't mean you should overlook it for special celebrations or entertaining situations. It'll make a really great vegetarian Easter appetizer (Passover, too), graduation snack or like I suggested earlier, packaged individually in reusable containers served deck-side at swim meets or baseball games when the snack bar is filled with junk.
How do you plan to enjoy this delicious (and easy) sweet tropical fruit dip?
Tropical Fruit Dip Ingredients & Instructions
dip, appetizer
appetizer
american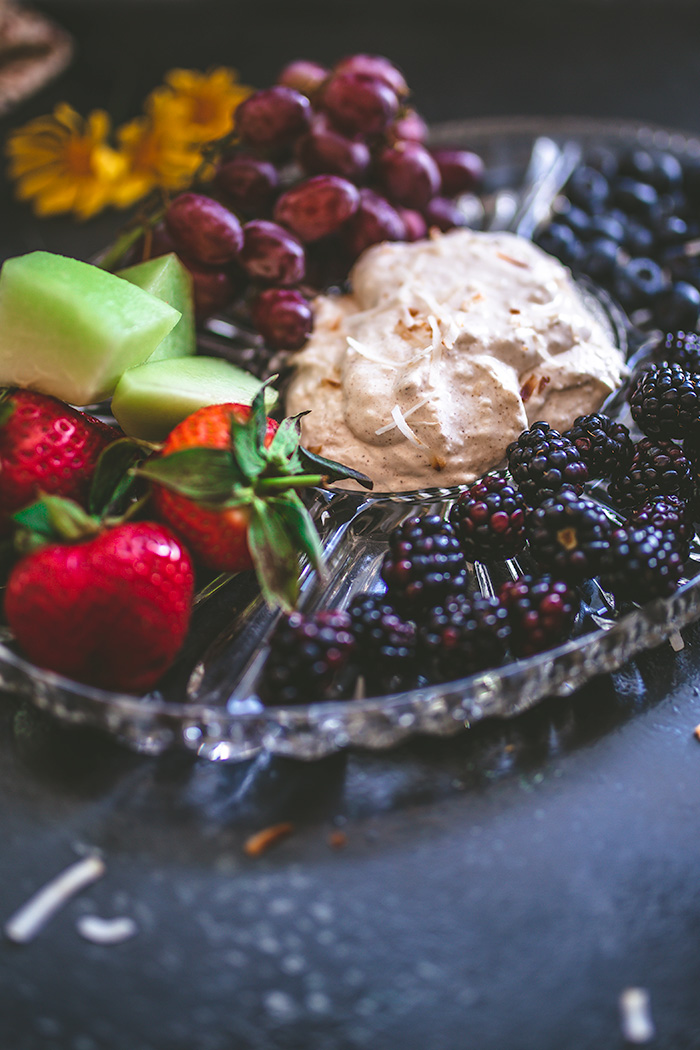 Tropical Fruit Dip
subtlety sweet tropical dip, a tasty way to dress up seasonal fruit or graham crackers.
prep time: 5 M
cook time: 5 M
total time: 10 M
ingredients:
8 ounces cream cheese or mascarpone, at room temperature
1 teaspoon coconut extract
1 tablespoon toasted coconut (we used Bob's Red Mill Toasted Coconut; it's a very fine chop, not quote flour consistency but not the toasted coconut you'd use on a cake)
1 teaspoon ground cinnamon
2 tablespoons honey
3 tablespoons coconut milk
toasted coconut, for dusting, optional
assorted fruit (strawberries, grapes, blueberries, grapes and melon are my personal preferences.)
instructions:
How to cook Tropical Fruit Dip
In a food processor, pulse together all of the ingredients until whipped smooth. Serve right away or cover and chill until ready to use, dusting with toasted coconut just before serving for added texture.
Sodium (milligrams)
138.31