Most every family has their collection of recipes that are forever connected to a special occasion or holiday. that dish may be as complicated as prime rib with Yorkshire pudding (my maternal grandmother's go-to fancy dish that could pop up at Christmas or Easter, depending on the ability to get the perfect cut of meat) or as simple yet plentiful as an Easter ham with endless side dishes of German-inspired vegetables or salads. Imagine a holiday meal with a pair of cooks, my grandmother June and her mother, Hedwig, whom we called "Mama," working to outdo each other in regard to who made the best side dish. Hedwig's go-to dish was a celery root salad, and my grandmother's was a German-style potato salad.
Of course when you get into these familial cook-offs, when you express interest in a dish and ask "How do you make that?", the answer you get it is, "Well, my mother made this and there's no recipe written down so I just make it." This, of course, dooms you to doing your best to sit right there while the dish is being made, and where you hone your powers of observation and estimation, because of course there are zero ingredient lists or measurements! Cook your potatoes, sauté your vegetables, hardboil the eggs, add the spices and seasonings, and there! That easy!
Except it's not that easy! Great-grandma passed away just prior to Christmas in 2001, and frankly even my grandmother's celery root salad was just not right … I made a purposeful effort to learn how to make the German potato salad, despite my grandmother's lack of recipe. I did my best to observe everything she did, and I thought I had it all figured out.
I didn't, of course.
So what is the big difference between German potato salad and, well, just plain potato salad that everyone makes and takes to summer potlucks? The biggest differences—no mayonnaise in the German potato salad, and dill! Lots and lots of delicious fresh, wispy dill.
This recipe is the closest thing I've found to my grandmother's German potato salad. Potatoes done to perfection, but not all mushed up and unrecognizable. Celery and onion and marjoram and dill in perfect proportions to tickle your taste buds. And bacon. Who doesn't like bacon?
I bet you have most of the necessary ingredients in your pantry and fridge right now, except perhaps for the fresh dill. Don't cheat yourself by not using fresh marjoram or dill. You'll thank me later.
For ease in cooking and assembly, you can boil the potatoes and eggs a day or two ahead of time. Cook the potatoes to al dente and stash in a ziplock bag until you are ready to present this dish to your family and friends.
For an optional flavor enhancer, feel free to add a generous tablespoon of truffle oil to the finished dish just prior to serving.
Does your family have any special secret family recipe that you are worried about keeping? How do you plan to save those recipes and make them your own?
German Potato Salad Ingredients & Instructions
German recipe, side salad, potato salad, easter
side salad
German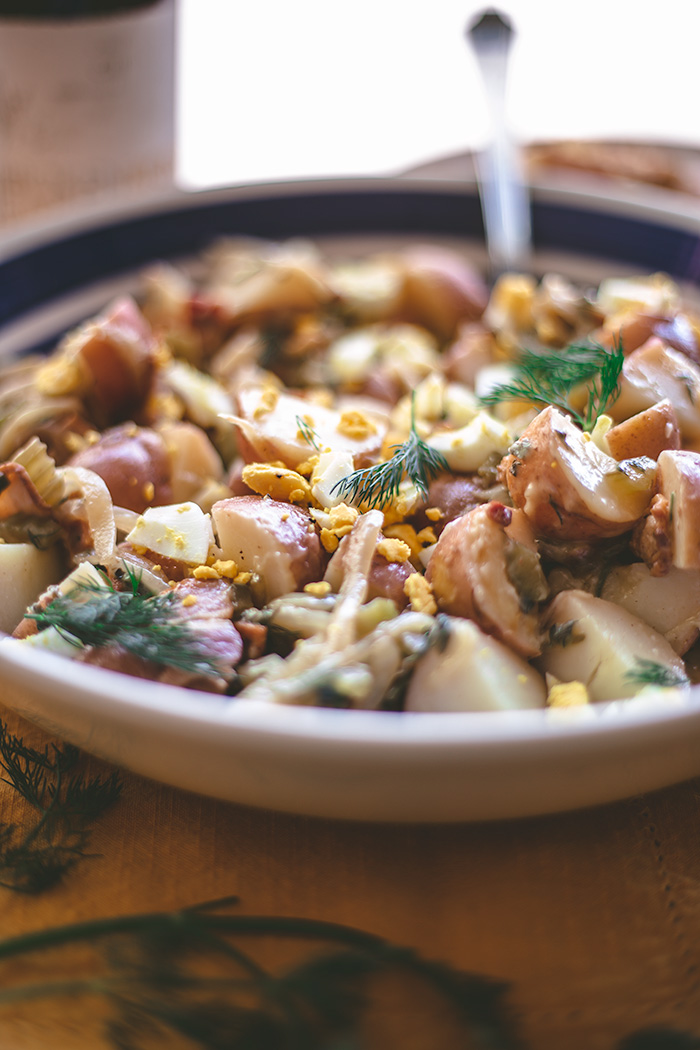 German Potato Salad
A mayo-free potato salad with fresh dill and majoram. My family has been eating this for Easter and throughout the summer for years.
prep time: 10 M
cook time: 50 M
total time: 60 M
ingredients:
12-14 small red-skinned potatoes (about a pound and a half)
salt and freshly ground pepper
4 slices thick-cut bacon, coarsely chopped print to cooking
olive oil as needed
1/2 yellow onion, halved lengthwise and thinly sliced across
2 large celery ribs, diced
2 tablespoons white wine vinegar
2 teaspoons minced fresh marjoram
1/2 teaspoon dry mustard
1/2 cup beef broth (I used bullion, a tablespoon in a quarter cup of boiling water)
generous 2 tablespoons dill, more for garnish
four hard boiled eggs, chopped
instructions:
How to cook German Potato Salad
Put the potatoes into a large saucepan, cover with salted water and bring to a boil. Reduce heat and cover, cooking until the potatoes are tender, about 20 minutes.
Prepare the hardboiled eggs, Place 4 eggs in a small saucepan, cover with cold water, bring to a boil. Turn off heat, put lid on saucepan, and set times for 15 minutes. When eggs are done, plunge into ice-cold water to stop them from cooking and creating an unsightly gray ring between the yolk and white. Put aside.
In a large frying pan, sauté the bacon until crispy, around six minutes. Remove the cooked bacon from the fat with a slotted spoon, and drain on paper towel. Set aside. Retain three tablespoons of bacon fat to sauté the celery and onion. if necessary, add olive oil to total 3 tablespoons. Heat the bacon fat/oil over medium heat and add onion and celery. Cook until they begin to soften, about 3 minutes.
Whisk in the vinegar, marjoram, dill, 1/2 teaspoon salt, 1/2 teaspoon freshly ground pepper, and the dry mustard. Add the beef broth, combine.
Gently place the potatoes, cut into bite-sized pieces, along with the bacon, into the frying pan. Cook, tasing carefully, until the dressing thickens and coats the potatoes. Add chopped eggs to taste.
If you desire, add a generous two tablespoons of truffle oil to the salad, gently toss. Arrange in serving bowl. Garnish with fresh dill. Serve warm, though you will enjoy the leftovers, if there are any, cold from your fridge for tomorrow's lunch.
Sodium (milligrams)
512.46
Cholesterol (grams)
198.38