Clafoutis is an easy dessert with a reputation for being difficult. Easily adaptable with any fruit, this is an easy custard recipe that can be made throughout the year with whatever fruit is in season.
With a backyard full of healthy ducks and chickens gifting us with fresh eggs everyday, you can bet that we are always looking for creative recipes to incorporate those eggs. The way to making us very enthusiastic about a recipe is the opportunity and flexibility to use fresh, seasonal ingredients.
This stone fruit clafoutis (baked custard) fits the bill perfectly. Just because I've prepared it using fresh plums certainly doesn't mean you are stuck with using plums! They just happened to be the easiest to acquire fruit when I baked this beauty up in my new Le Creuset Cassis-colored 12 X 9-1/2 stoneware baking dish.
And just because I have called it a stone fruit dish doesn't mean you can't substitute fresh blackberries, raspberries, currants or blueberries, or even apples or pears. It's all the same. Quite tasty! Just treat all of the fruit the same—pre-bake regardless of size.
I confess as I was testing this recipe I was slightly concerned about the need to pre-bake the fruit. Aren't apricots, peaches, plums, nectarines, pluots, plumcots, apriums and cherries eaten raw? What will baking do to the taste and texture of the fruit?
The pre-bake is vital for two reasons, so don't be tempted to bypass this step. First, baking the fruit releases the natural juices within the fruit—and you need these juices to fully prepare this fantastic dessert for serving? Second, if you put uncooked fruit into this recipe, the fruit releases its juices into the egg mixture, causing two things: juice colors run into the rich egg custard mixture, and the liquids not only change baking times but also prevent a pleasing rise to the custard by diluting the custard.
How much fruit to use in each recipe? This recipe does indeed require a little planning when you purchase or pick fruit. You want enough fruit that each mouthful gets a generous portion of fruity deliciousness, but not so much that you cannot give the custard space to do its own thing. I recommend you buy a bit more fruit than you think you may need. You'll want to cover the bottom of the baking dish without overlapping most fruits (cherries and berries are the exception). A minimum of two pounds of fruit is a good starting point.
Don't be tempted to peel the fruit before you bake it, even the fuzziest of peaches. You want the fruit to hold its shape during baking, but you want to maximize the fluids that the fruit will release. Prepare larger stone fruit by washing, patting dry, slicing in half and removing the stone. Remove any bruised or less-than-pretty bits on each half.
I can see your nose wrinkling as you're thinking about pitting all of those cherries! Stop worrying! When using cherries simply score each piece to allow the natural juices to escape. Once the cherries are cooked and cool enough for you to handle, it's super-easy to just pop the stone out.
I also see you wondering about how to use apple or pear in this dish. Slice the apple (leaving the skin in place), remove seeds and core, and arrange in baking pan to release juices. The fruit might brown somewhat with the bake. Don't sweat it. The yumminess remains. After the apples or pears are cooked and cooled slightly you may cut them into smaller wedges or a large dice, your choice.
Just in case there's not abundant stone fruit hanging on the trees or available at the grocery store, no problem! You can use canned or frozen fruit of your choice. If using frozen, thaw before the bake; drain the liquids, and bake about 10 minutes with 2 or 3 tablespoons of melted butter drizzled over the top, with a bit of sugar sprinkled on top to enhance the fruit's flavors. Once the bake is complete, use exactly as you would fresh fruit.
Here's a couple trouble-shooting tidbits I tripped over while testing this recipe.
1. I bake up my fruit in a plain lightly-buttered Pyrex 9 X 13 baking dish. It's about an inch larger than the Le Creuset dish I use for baking and presentation. It allows the fruit to bake on all sides and gives me a place to save the juices until I'm ready to use them.
2. Fruit baking times are kind of flexible. If you bake blackberries for 30 minutes, you have a mushy mess. Carefully observe the fruit as it's cooking, and once you see ample juices released, take the berries out of the oven. Baked apples might take a tick longer than baked plums. And if using white peaches, those tend to be a bit more delicate and won't tolerate a 30 minute bake.
3. I used duck eggs because I could. What's the difference? Duck egg whites have more volume and protein versus chicken eggs, so anything baked with duck eggs end up fluffier. Also, duck eggs contain more Omega-3 fatty acids, more vitamin D, and are higher in many essential vitamins and minerals. Admittedly they are higher in fat versus chicken egg, but the benefits certainly outweigh that fact for me.
This recipe is just fine using chicken eggs.
4. Avoid temptation to peek into the oven to make sure the clafoutis is rising. It is. Peeking is okay in the last few minutes to observe puffiness and browning.
By now you've seen photos of my new Le Creuset Cassis-color 12 X 9-1/2 stoneware baking dish. I am positive you will love it as much as I do. The color, name for sweet black currants, harkens to the color of a ripe aubergine or bramble-fresh blackberries. The color itself fits into neutral as well as bold kitchen color schemes, and is a color that just doesn't go out of style.
The Cassis-color Le Creuset line is brand-new in Le Creuset outlet stores this September, just n time for the holidays. I'm fortunate to be able to browse at the Gilroy Premium Outlet Le Crust store—a treat I recommend of all cooks, regardless of your perceived skills in the kitchen. Click here to find your nearest Le Creuset outlet store.
If you're really having Le Creuset envy as a consequence of this post, follow Insolence and Wine on Intagram to win your own Le Creuset stoneware baking dish. One lucky winner will be chosen at random.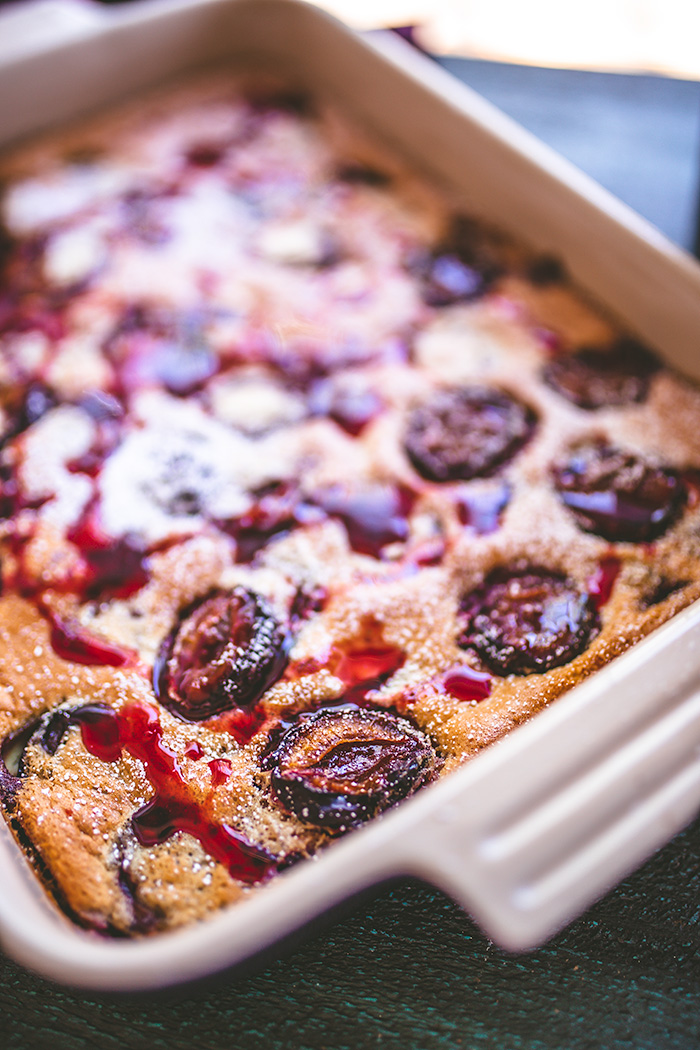 Roasted Plum Clafoutis
Clafoutis is an easy dessert with a reputation for being difficult. Easily adaptable with any fruit, this is an easy custard recipe that can be made throughout the year with whatever fruit is in season.
prep time: 5 M
cook time: 1 H & 50 M
total time: 1 H & 55 M
ingredients:
for the roasted plums
2 pounds plums, halved and pitted
butter
1 teaspoon cinnamon
1 cup granulated sugar
1 tablespoon lemon zest
2 tablespoons fresh lemon juice
for the clafoutis
4 large eggs
6 tablespoons granulated sugar
4 tablespoons all-purpose flour
2 teaspoons vanilla extract
2/3 cup heavy whipping cream
instructions:
How to cook Roasted Plum Clafoutis
for roasted plums and sauce
Preheat oven to 350º
Butter a 9x13" baking pan. Arrange plums skin-side down in dish. Combine all ingredients for roasted plums in a bowl, then pour mixture over fruit. Bake for about 25 minutes or until fruit is tender but hasn't collapsed or begun to shrivel. Remove from oven.
Transfer fruit only to another 9x13" baking dish that has been slightly buttered and keep juices warm. Arrange in a single layer, skin side down.
for clafoutis
In the bowl of stand mixer fitted with the whisk attachment, add the eggs and sugar until light and fluffy. With the mixer on low, add the flour, vanilla, and cream in separate additions. Make sure no lumps remain. Pour mixture over fruit.
Bake for 40-45 minutes, or until the custard has turned a light golden brown color and is slightly puffed.
Serve with reserved sauce, powdered sugar or whipped cream.
Cholesterol (grams)
119.34