Decadent in flavor, these peanut butter chip espresso marshmallow brownies are habit forming. After baking and an additional cool time, they're best served cold straight from the refrigerator or freezer. You're going to want to double the batch!
Peanut Butter Espresso Marshmallow Brownies
My love of all things peanut butter has been well-documented the last couple of years. Imagine my surprise when I realized I've never shared any peanut butter brownie recipes… until today. This is actually my fifth time making these brownies over the past month. As soon as these bad boys are even spotted cooling on the counter it's like a battle to see who can snatch the first brownie. It's not so easy to photograph brownies when half the plate goes missing before it's time to even set up all the camera gear and put together a layout.
On the weekends, I am all about diving into time-consuming desserts, but during the week when I am craving something sweet or have been asked to make something, it needs to be quick and painless, like pulling off a bandaid. Not only are these peanut butter marshmallow brownies easy to make, they're a breeze to clean up since they're mixed in one bowl. (Faster cleanup = more time to finish reading Once Upon a River by Diane Setterfield, which I am loving.)
Even though I am currently on a citrus train, sometimes life just calls for a dark, fudgy brownie. What I love most about these brownies is the different textures found throughout each bite-full of brownie. The topping is soft and chewy, the way you'd expect marshmallow swirl to be while the middle is almost gooey with a few scattered peanut butter chips mixed throughout, while the bottom is perfectly chewy in texture. So, you're getting a little but of everything in these peanut butter espresso marshmallow brownies.
Important caveat: While it's super-tempting to reach for a still-warm brownie, it is imperative that these brownies need to cool completely before being cut and served. The marshmallow goo will make them fall apart really easily, which makes them also really messy. I like to bake them in a Pyrex cooking dish lined with parchment paper, let them cool completely overnight in the dish, then remove the brownies from the pan using the parchment paper as a sling prior to slicing them into squares. I've found it's really the easiest aside from sticking them into the freezer to firm up slightly (Confess … do you have room in your freezer for a large Pyrex baking dish?) Regardless of how you decide to cut and serve them, they will be delicious. Guaranteed.
Peanut Butter Espresso Marshmallow Brownies
brownies, peanut butter
dessert
American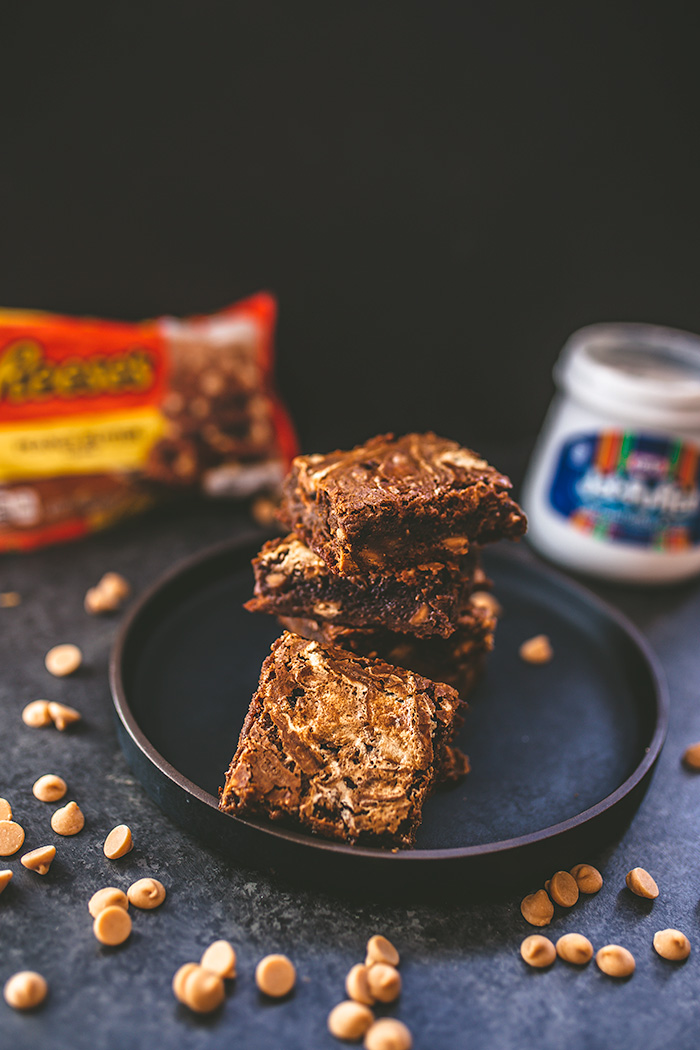 Peanut Butter Espresso Brownies
These yummy peanut butter espresso treats are best served chilled.
prep time: 2 hour
cook time: 35 M
total time: 2 H & 35 M
ingredients:
1/2 cup plus 2 tablespoons hot espresso
2 ounces unsweetened chocolate, chopped fine
1/2 cup Dutch-processed cocoa powder
2 1/2 cups sugar
1/2 cup plus 2 tablespoons vegetable oil
2 large eggs plus 2 large yolks, at room temperature
4 tablespoons unsalted butter, melted
2 teaspoons vanilla extract
1 3/4 cups all-purpose flour
3/4 teaspoon salt
1 cup peanut butter chips
1/2 cup marshmallow crème
instructions:
How to cook Peanut Butter Espresso Brownies
Adjust oven rack to lowest position and heat oven to 350º degrees. Make parchment paper sling for 13 by 9-inch. Spray parchment with vegetable oil spray.
Whisk boiling espresso, chocolate, and cocoa in large bowl until chocolate is melted. Whisk in sugar, oil, eggs and yolks, melted butter, and vanilla until combined. Whisk in flour and salt until just incorporated. Fold peanut butter chips into the mixture.
Transfer batter to prepared pan. Dollop marshmallow crème evenly over top of batter. Using the tip of a paring knife, swirl marshmallow crème into the batter. Bake until a toothpick inserted in center comes out with few moist crumbs attached, 30 to 35 minutes, rotating the pan halfway through baking. Transfer pan to wire rack and let cool for 1 1/2 hours.
Using parchment overhang, lift brownies out of the pan. Cut into 2-inch squares and serve.
Sodium (milligrams)
139.82