Affiliate Disclosure: Occasionally we may provide links to products that are affiliate links to products and providers that we personally use and recommend. If you choose to click on a link and purchase a product, we wanted to let you know that we'll get a commission from the sale. Thanks for supporting this blog! :)
Roasted butternut squash is added to a creamy thyme and viognier instant pot risotto for a comforting fall dinner.
Instant Pot Butternut Squash Risotto with Viognier
Inspired by one of my absolute favorite butternut squash recipes from the last year, this version is cooked in an Instant Pot (or pressure cooker, whatever you prefer to call it), so that means it's easy and quick to get onto the dinner table!
While technically a meatless recipe, I do call for the use of chick stock in this pressure cooker butternut squash risotto. It can obviously easily be adapted to be vegetarian by using vegetable broth, so the choice is yours.
The butternut squash is roasted in the oven, it can be roasted the night before or about an hour or so you plan to start cooking dinner. Since it's cubed, it only takes about 40 minutes to roast so that's enough time to take your shoes off, get into some comfy clothes, pour yourself a glass of wine (I recommend Viogner) and read a chapter or two of the book you're struggling to get through. Speaking of books, I just finished Things You Save in a Fire and I really loved it and cannot recommend it enough. It's such a huge contrast to what I usually read (give me all the dark and depressing novels any day of the week—be sure to leave some reading recommendations in the comments if you have one!)
I very rarely ever talk about politics or religion on here, and that's for obvious reasons but the past week and a half, I have just been so plan sad and angry about what's been going on in our country. Gilroy isn't too far away from where I live, and while I called the Bay Area home, I attended the Gilroy Garlic Festival countless times. It's a family event, a place where people should have felt safe to escape from their real lives for one day to eat all things garlic. Now it's forever marred by a senseless tragedy. I don't pretend to have the answers or solution on how to end the cycle, but I've noticed that there is no safe, free place for people to even have an open dialog about the issues at hand. Everyone just talks over one another, unwilling to listen to the other point of view and it's just… disappointing.
fall recipe, butternut squash, instant pot, pressure cooker
main dish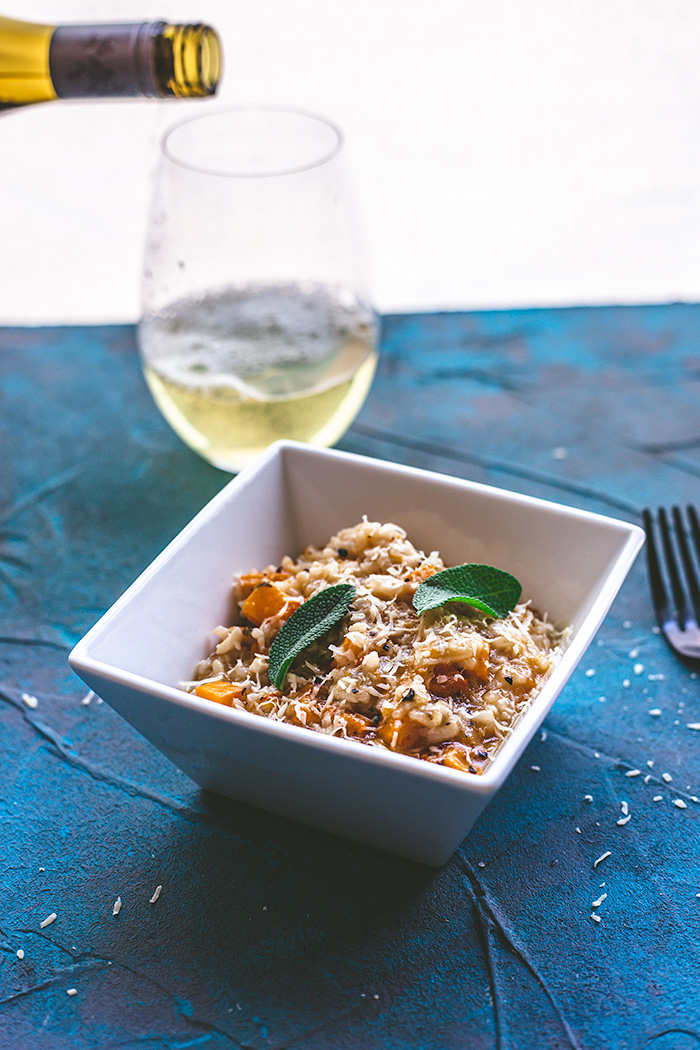 Pressure Cooker Butternut Squash Risotto
Pressure cooker butternut squash is a year-round favorite, perfect for late summer or early fall when butternut squash is ripe and in season.
prep time: 10 M
cook time: 45 M
total time: 55 M
ingredients:
1 small butternut squash, peeled, seeded, and cut into 1-inch cubes
4 tablespoons olive oil
Salt and freshly ground pepper
4 cups low-sodium chicken or vegetable broth
2 cloves garlic, minced
2 shallots, minced
1 Tbsp chopped fresh sage
1 teaspoon chopped fresh thyme
1 cup Arborio rice
1/2 cup dry white wine (I LOVE using Viognier in this recipe)
1/4 cup grated Parmesan cheese
instructions:
How to cook Pressure Cooker Butternut Squash Risotto
Preheat the oven to 400°. Toss the squash with 2 tablespoons of the oil and spread in a single layer on a baking sheet lined with parchment paper. Season well with salt and pepper. Roast, stirring once, until tender and caramelized, 30–35 minutes. Set aside.
Set Instant Pot on Sauté and add 2 tablespoons of oil. Add the garlic and shallots and cook until softened, about 5 minutes. Add the sage and thyme and season with salt and pepper. Stir to combine and cook until fragrant, about 1 minute. Add the risotto and cook, stirring often, until toasted, about 2 minutes. Add the wine and cook until the wine is evaporated, stirring occasionally.
Stir in stock, lock on lid, making sure the steam-release valve is set to seal. Select "manual" and program for 10 minutes on low pressure.
Once time has passed, turn off the pressure cooker, set the steam release valve to release, and unlock the lid. Stir carefully with a wooden spoon, add butternut squash and parmesan cheese and fresh spring of thyme..
Recommended Products:
Sodium (milligrams)
492.62