Affiliate Disclosure: Occasionally we may provide links to products that are affiliate links to products and providers that we personally use and recommend. If you choose to click on a link and purchase a product, we wanted to let you know that we'll get a commission from the sale. Thanks for supporting this blog! :)
Served as a appetizer or dessert, use whatever stone fruit is ripe and in season. Mascarpone can be substituted for the goat cheese for a sweeter flavor.
Let me begin this post by saying I had no intention of abandoning you guys for the past couple of weeks. July got off to a rough start with a loss of a family member and I injured by wrist in the dumbest way possible… by punching a wall in my sleep after some moron set off a firework at one in the morning. It's hard to do things with one hand!! I decided rather than risk further injury (hello, carpal tunnel), I would do as little typing as possible to let my wrist sort of heal. It's still not healed and I see a doctor's visit in my future.
The first recipe of August is a fantastic entertaining recipe and it's super adaptable to whatever you can find locally. If you don't like plums or goat cheese, no problem. Swap the plums for apricots, peaches, nectarines… whatever floats your boat. If you want to serve this as a dessert, swap out the goat cheese for something sweeter like mascarpone. The only thing that is non-negotiable is the maple syrup and the ingredients used to make the dollop just prior to serving.
It might seem premature, but I can see this recipe becoming a staple in my household once the temperatures dip back into the 70's and I am all about autumn comfort foods. I mean, just think about these maple roasted plums as an appetizer prior to digging into a comforting bowl of butternut squash or mushroom risotto and a grand finale of pumpkin-caramel créme brûlée. Who else is now day dreaming about cozy cable knit blankets and a good book in front of a crackling fire??
My favorite thing about this recipe that it is so adaptable. Plus it's so easy to put together. Pitting the stone fruit is the most time consuming part. I typically make the filing or topping while the fruit is in the oven roasting so once they're cooked to a caramelized perfection, all I have to do is transfer the fruit to a serving platter (this time of year I love using grape leaves to give the plate a pop of color, plus it looks pretty), then carefully scoop out a dollop of whipped goat cheese goodness for each piece of fruit and viola, appetizer is done and on the table.
When I was trying to figure out how I wanted to photograph this recipe for oven-roasted maple plums with lemon goat cheese, I was also playing around with different wines to pair with it just in case you want to serve these at a wine tasting party or gathering. I'm not going to lie, the addition of goat cheese and maple syrup makes things a little difficult, but in the end I found that I loved a warm climate Syrah with the goat cheese and the caramelized plums.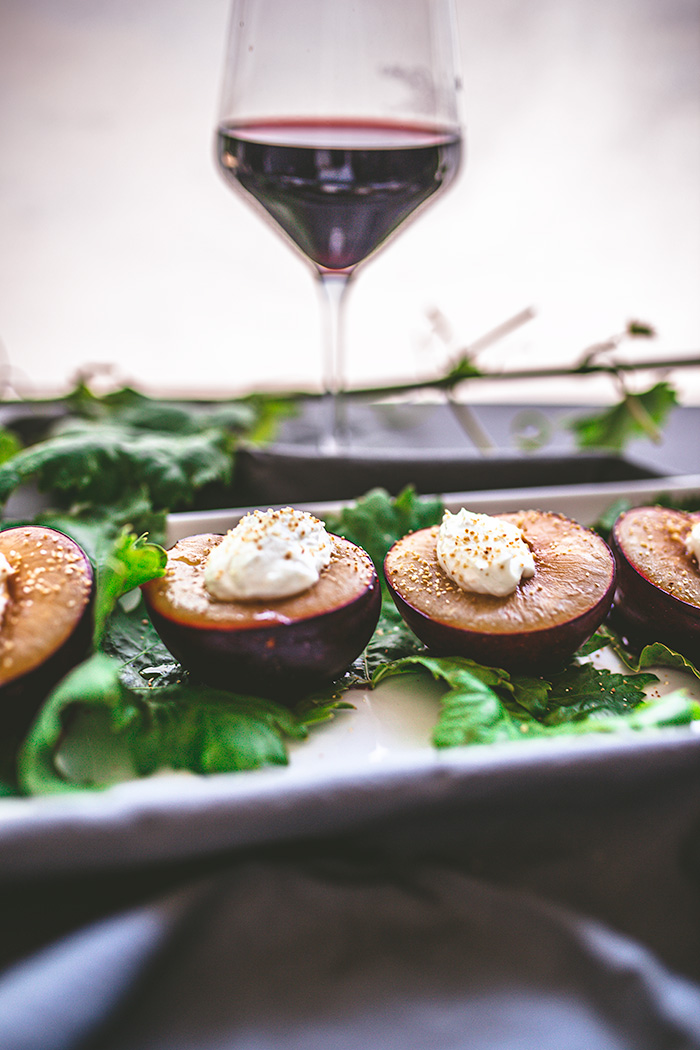 Oven-Roasted Maple Plums with Lemon Goat Cheese
prep time: 5 M
cook time: 15 M
total time: 20 M
Plums are roasted in the oven with a maple glaze, caramelized, then served with a dollop of lemon whipped goat cheese. Makes a great appetizer or dessert.
ingredients:
4 pounds plums, halved and pitted
1/4 cup high-quality maple syrup
8 ounces goat cheese, at room temperature
1 teaspoon finely grated lemon zest
1 tablespoon confectioners' sugar
1 teaspoon almond extract
instructions:
How to cook Oven-Roasted Maple Plums with Lemon Goat Cheese
Preheat oven to 400º
Arrange the plum slices cut side up in a single later on a baking sheet and brush with maple syrup.
Roast the fruit until it has begun to caramelize and the juices have begun to release about 12 minutes. Remove from oven and reserve any juice from the pan.
Arrange the plum slices on a serving platter, then if desired, drizzle the fruit juice over the top of the plums.
Quickly, in the bowl of a stand mixer, whip the goat cheese, lemon zest, sugar, and almond extract until light an airy. Scoop a dollop of the goat cheese mixture into the center of each plum.
Serve while still warm.
NOTES:
Any summer stone fruit can be substituted for the plums. For a sweeter version, swap out the goat cheese for mascarpone.
Sodium (milligrams)
105.14
summer stone fruit, roasted plums, appetizer, dessert
appetizer