Chicken, Ham & Broccoli Casserole
You might have noticed a theme the last couple of weeks: broccoli. Lots and lots of broccoli. It began when I asked for a couple of heads of broccoli and instead found myself being handed an entire box of broccoli. If I was feeding a family of six every night for dinner it wouldn't be such a conundrum, but since most nights it's just my husband and I, I kinda forced myself to at least attempt to cook as much of the broccoli as I could before it turned bad.
Growing up, I absolutely loathed broccoli. Not because I hated how it tasted, but because it was probably the most frequent item served at dinnertime. Usually boiled to death. To this day, I cannot stomach taking a bite out of limp, overcooked broccoli… sorry, dad! It wasn't until after college when I moved out of state that I finally began repairing my relationship with broccoli. While it's still not by any means my favorite vegetable, through a bit of trial and error, I eventually learned how to cook broccoli in ways that I found enjoyable.
Recently I've noticed casseroles are making a huge comeback, and all I can say is hallelujah! I decided now was the perfect time to dust off my mother's old chicken and broccoli casserole, which was the only way I could eat broccoli when I was a kid.
Chicken & Broccoli Casserole
serves 4
Cook Time: 1 Hour
feeds a crowd, leftovers
main dish
american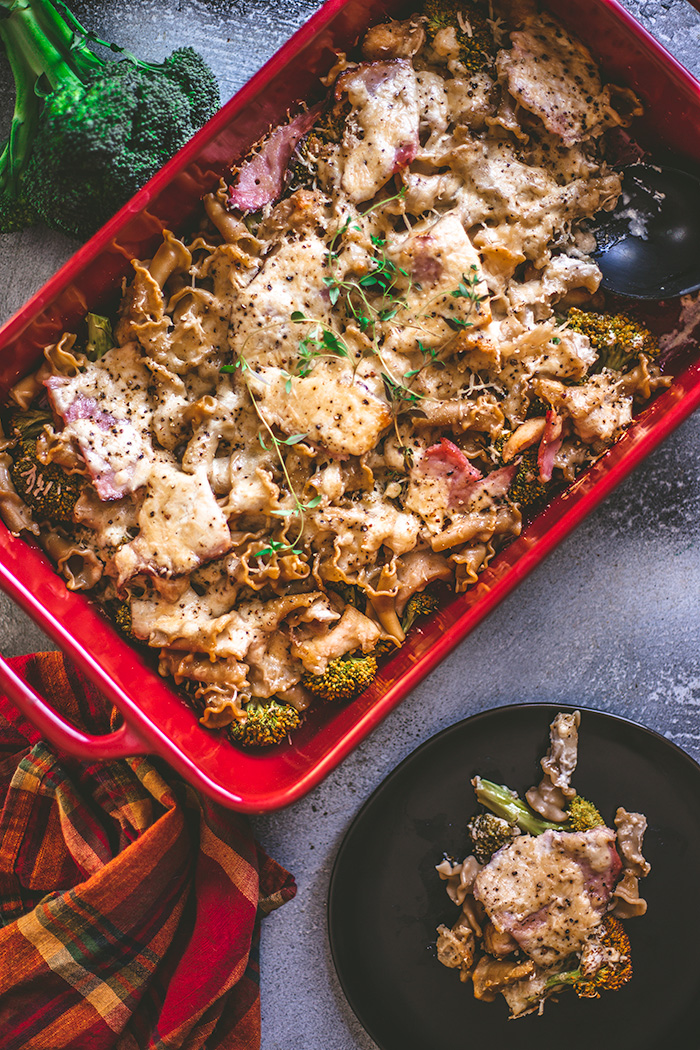 Chicken & Broccoli Casserole
Comforting chicken, ham & broccoli casserole feeds a whole bunch of people. Perfect for rainy weather, or just because.
prep time: 15 M
cook time: 40 M
total time: 55 M
ingredients:
1/2 cup all-purpose flour
1 tablespoon dried sage
1 teaspoon sweet paprika
6 skinless, boneless chicken breast halves
3 tablespoons unsalted butter
2 cups chopped broccoli
1 cup cubed ham
1 cup cooked pasta, I used porcini trumpets from Sfoglini
1 cup heavy cream
1/4 cup dry sherry
1/2 cup grated Parmesan or Romano cheese
Salt and freshly ground pepper
instructions:
How to cook Chicken & Broccoli Casserole
Preheat the oven to 350°F
In a sturdy bag, mix together the flour, sage, and paprika. Drop the chicken pieces into the bag, one at a time, and shake. Shake off any excess flour mixture.
In a large cast iron pan, melt the butter over medium heat. Add the chicken pieces and sauté until golden brown, about 4 minutes per side. Transfer to a plate.
To make the sauce, pour off the excess oil from the pan and add the cream. Bring to a boil over medium-high heat and with a wooden spoon, scrape up any browned bits on the pan bottom. Add the sherry and boil for 2 minutes. Stir in all but 2 tablespoons of the cheese and season with salt and pepper. Remove from the heat.
Arrange the broccoli in a layer in the bottom of a baking dish. Cover with the chicken and sprinkle the cubes of ham over the chicken. Set aside.
Pour the sauce over the ham and chicken. Sprinkle with the remaining cheese. Bake until the chicken is opaque throughout, the broccoli is tender, and the sauce is bubbling, 30–40 minutes. Serve directly from the dish.
Sodium (milligrams)
501.45
Cholesterol (grams)
141.34