I know, it may seem a bit too early for pumpkin, but I have a logical explanation, I swear. First off, after several days of 100+ degree temperatures, we had a couple of "cold" days and I thought, what the heck, I'll do some baking so my kitchen doesn't turn into a literal oven. Secondly, there's a little known secret to help bloggers figure out what people are looking for, and the past couple of weeks pumpkin recipes have been surging on the blog. Two birds, one stone, right?
Anyhow, this pumpkin chocolate chunk bread recipe is probably one of my all-time favorite autumn treats. Who am I kidding, I can eat this bread year-round and usually do. It's a favorite for breakfast, a midday snack or even warm out of the oven with a scoop of delicious vanilla ice cream for a semi-casual dessert. Later on this summer or early this fall, I'll be sharing a gingerbread ice cream recipe that is absolute perfection alongside of this pumpkin chocolate chunk quick bread.
I've spoken about it before, but the secret to 99% of my pumpkin recipes is the inclusion of ground coriander. That's right, I love the combination of pumpkin and cilantro. I use this homemade pumpkin spice blend almost exclusively in most of my baked pumpkin goods: pumpkin cranberry muffins, chocolate chip pumpkin spice cookies, and my favorite pumpkin pie bread pudding.
What's a seasonal ingredient that you can enjoy year-round?
pumpkin, fall, bread
bread, fall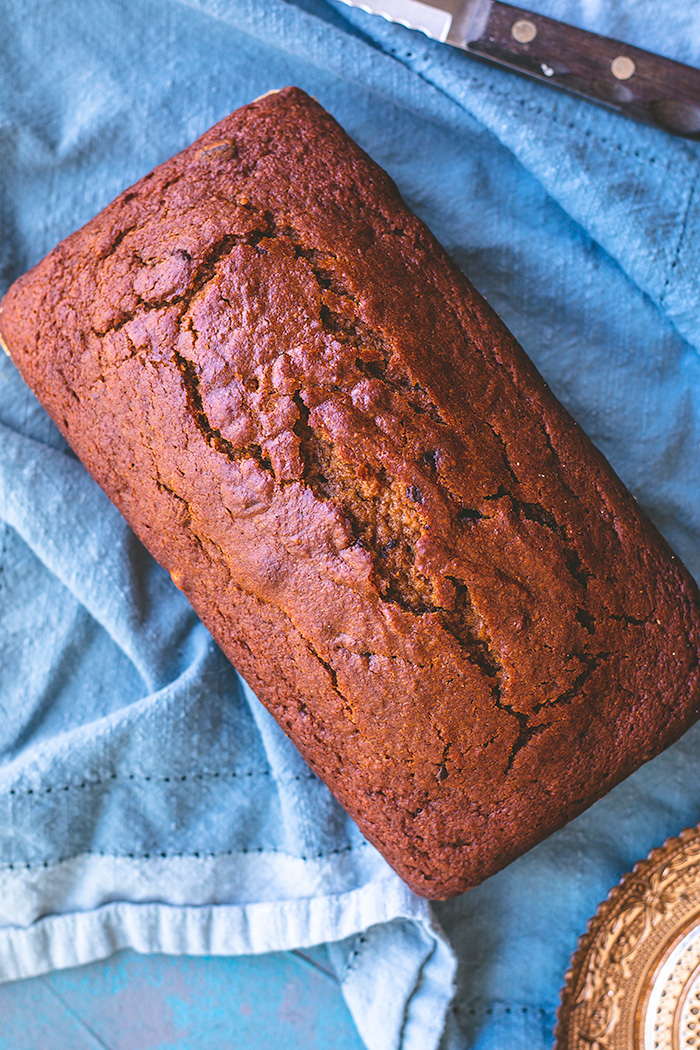 Pumpkin Chocolate Chunk Bread
Enjoy this delicious pumpkin chocolate chunk bread year-round, or during the fall as a simple, but unexpected breakfast treat.
prep time: 15 M
cook time: 1 hour
total time: 1 H & 15 M
ingredients:
1 1/2 cups sugar
1 cup canned pumpkin puree
2 eggs
1/2 cup neutral oil
1 3/4 cups all-purpose flour
1 teaspoon baking soda
1/2 teaspoon baking powder
1/2 teaspoon salt
1/2 teaspoon ground cinnamon
1/2 teaspoon ground cloves
1/2 teaspoon ground coriander
1/2 teaspoon freshly grated nutmeg
1 cup coarsely chopped bittersweet chocolate
instructions:
How to cook Pumpkin Chocolate Chunk Bread
Preheat an oven to 350°. Grease a 9-by-5-inch loaf pan.
In a large bowl, sift together the flour, baking soda, baking powder, salt, cinnamon, cloves, coriander, and nutmeg.
In a bowl of a stand mixer, mix together the sugar, pumpkin puree, eggs, and oil until smooth, about 1 minute. Slowly add the flour mixture to the pumpkin mixture and mix until smooth and well combined, 1 to 2 minutes. The batter will be quite thick.
Using a spatula, fold in the chocolate chunks just until evenly distributed. DO NOT OVER MIX. Pour the batter into the prepared pan.
Bake until the top is browned and crusty and develops a long center crack, 60 to 70 minutes.
A toothpick inserted into the center of the loaf should come out clean. Serve warm or at room temperature.
Sodium (milligrams)
172.29