I can already hear your concerns. "Scallops are difficult to cook and not very versatile." "I hate the texture." "They are expensive." "I don't live anywhere near the ocean, so I can't get decent product."
Wrong, wrong, wrong and wrong.
You probably think the only way you can prepare scallops is pan-seared in butter, using salt, pepper and garlic. Honestly, that's the very best way to cook them for your very first time. Baby steps in getting your confidence to try more complex flavor and texture combinations!
First, let me share a bit of information about what "sea scallops" actually are. It's a bivalve mollusk, like clams and oysters. The edible portions of the scallop are the adductor muscle, found at the center of the shellfish, and the roe. The scallop's adductor muscle is larger than that of oysters, because scallops can swim.
Do you have concerns about sustainability in seafood? In many parts of the world, especially the Unites States Atlantic fishery, wild scallops are abundant and highly sustainable. They are also farmed in China, Japan, the U.K., and Norway. Aquacultured and wild scallops are filter-feeders that remove undesirable nutrients, silt, bacteria and viruses from the water, all actions that improve water clarity and stimulates growth of beneficial vegetation.
What's best—fresh or frozen product? I've not noticed a difference. However, I strongly recommend you thaw the scallops in your fridge. You'll know they are thawed when an individual medallion feels like a raw steak. And don't expect scallop to hang around in your fridge for more than three or four days. A good scallop should not have a strong odor, or have a dull color or slimy texture.
A couple more tidbits for the novice scallop chef. After washing the scallop, gently dry it. Additionally, pay attention to your cook times! There's nothing wrong with eating raw scallops—yes, there's such a thing as scallop sushi—being a lean protein source, the scallop is best cooked quickly under high heat. The recommended internal temperature is 130 degrees, but you can tell if the scallop is done by a uniform brown appearance on the surface, while the meat itself changes from a translucent white/pale pink to an opaque white. It's best to take the nearly-cooked scallop off off the heat and out of the frying pan, because the medallion will continue to cook.
Today's dish is the easiest method you can do. And just because it's easy doesn't mean its devoid of flavor or deliciousness. The ingredients cannot be any simpler: fresh or frozen scallop, butter, lemon juice, salt and pepper. Serve alongside or over a bed of watercress, swapping out the grilled chicken for the scallops in this watercress salad with a citrus vinaigrette.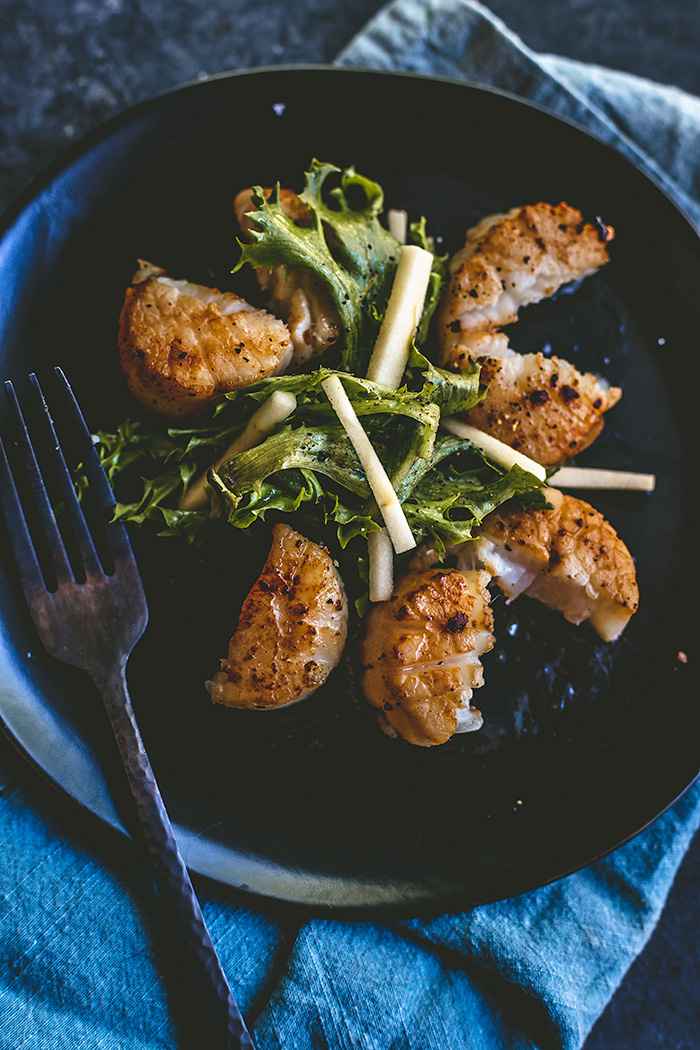 Pan Seared Scallops
prep time: 5 M
cook time: 4 M
total time: 9 M
Pan seared scallops only require 4 ingredients. Can be served as an appetizer, or a light dinner over watercress salad.
ingredients:
12 fresh or frozen scallops
sea salt
fresh ground black pepper
juice of half of a lemon
instructions:
How to cook Pan Seared Scallops
1. Heat olive oil in a non-stick pan until almost smoking.
2. Season scallops with salt and pepper to taste.
3. Carefully place scallops one at a time in in the pan in a clockwise pattern, scallops are flipped once they have a nice sear (about two minutes per side, four minutes total or until lightly golden brown.)
4. Once done cooking remove from the pan onto a paper towel lined plate
5. Right before serving, drizzle lemon juice, and a little pepper onto the scallops and serve.
Sodium (milligrams)
203.49