Turn up the Celtic music and dig into this traditional American-Irish one pot corned beef and cabbage simmered to tender perfection.
One Pot Corned Beef & Cabbage
Affiliate Disclosure: Occasionally we may provide links to products that are affiliate links to products and providers that we personally use and recommend. If you choose to click on a link and purchase a product, we wanted to let you know that we'll get a commission from the sale. Thanks for supporting this blog! :)
In honor of St Patrick's Day, I am sharing the first of two St Paddy's Day recipes I have planned for this week. Last year, I shared a quick and delicious recipe for Bangers and Mash with Guiness Gravy and thought I'd continue the tradition of an-enjoyed-once-a-year recipe.
Fact: making your own corned beef is tedious and I recommend only doing it once in your life, twice if you're masochistic. After looking up a couple of different recipes, I don't know what I was thinking, or why I was willing to give up the space in my refrigerator for an entire week to pickle my own brisket. But for the sake of honoring my (American) Irish heritage, it seemed to be a right of passage. Since St. Patrick's Day is actually less than a week a way and there isn't enough time to actually make your own corned beef, my recipe calls for a corned beef brisket from the supermarket, though the packet of spices included won't be needed so save it for something else.
It should come as no surprise that corned beef and cabbage is actually more of an American tradition than an Irish one. In Ireland, the traditional St. Patrick's Day meal actually consists of lamb or bacon, not corned beef.
While it might feel more natural to pair this one pot corned beef and cabbage with Guiness, rhone-style wines actually compliment the flavors within the dish really well. High on the Hog from local favorite McPrice Myers is my go-to rhone blend for corned beef and cabbage and Thanksgiving dinner. For under $25, you're not going to find a better blend of Grenache, Syrah, Mourvèdre and Graciano that will only get better if properly cellared for the next five years.
One Pot Corned Beef & Cabbage Ingredients & Instructions
St Patrick's Day, beef
main dish
Irish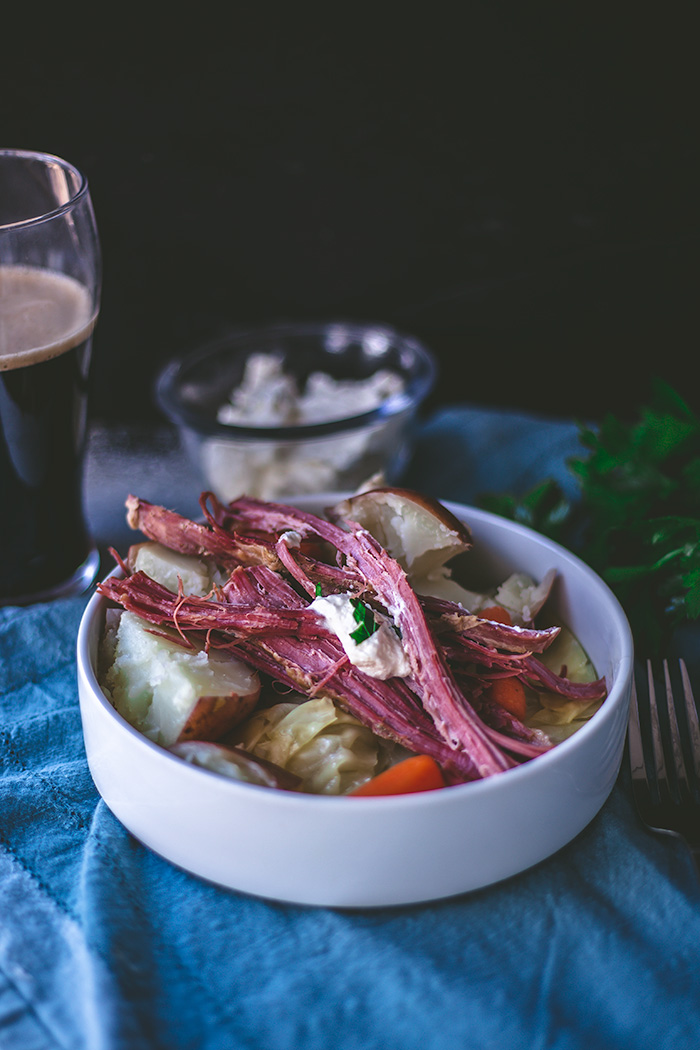 One Pot Corned Beef & Cabbage
Turn up the Celtic music and dig into this traditional American-Irish one pot corned beef and cabbage simmered to tender perfection.
prep time: 15 M
cook time: 3 H & 25 M
total time: 3 H & 40 M
ingredients:
3 sprigs fresh thyme
5 sprigs fresh flat-leaf parsley
3 pound corned beef brisket
2 bay leaves
1 teaspoon whole peppercorns
12 pearl onions, left whole
12 baby carrots, left whole
2 pounds small red-skinned
1 small head green cabbage, quartered
1 cup heavy cream
3 Tablespoons prepared horseradish
Salt
instructions:
How to cook One Pot Corned Beef & Cabbage
Tie the thyme and parsley sprigs together with kitchen string. Rinse the brisket and pat dry with a paper towel, place in a large dutch oven or other large pot fat cap down, and add water to the pot, covering the meat by 1 inch. Bring to a boil over medium-high heat, skimming off any foam from the surface. Add the herb bundle, bay leaves, and peppercorns, reduce the heat to medium-low, cover, and simmer gently until the brisket is tender, around 3 hours. Add the onions, carrots, potatoes, and cabbage wedges and return the liquid to a simmer. Cook until the vegetables and brisket are fork tender, about 25 minutes.
Meanwhile, in the bowl of a stand mixer fitted with the whisk attachment, whisk the cream until soft peaks form. Fold in the horseradish with a rubber spatula, and season with salt. Cover and refrigerate the horseradish cream until ready to serve.
Using a slotted spoon, transfer the vegetables to a large platter. Transfer the brisket to a cutting board. Cut the meat along the grain and arrange on the platter with the vegetables.
Serve alongside the whipped horseradish.
Sodium (milligrams)
398.91
Cholesterol (grams)
427.84
What are your St Paddy's Day food traditions?