Affiliate Disclosure: Occasionally we may provide links to products that are affiliate links to products and providers that we personally use and recommend. If you choose to click on a link and purchase a product, we wanted to let you know that we'll get a commission from the sale. Thanks for supporting this blog! :)
Classic Indian butter sauce can be made a day in advanced, while the shrimp is cooked in just minutes. Serve with rice and naan. For a spicy version, add more Serrano Chile and red pepper flakes.
Indian Butter Shrimp
One of the things I miss most about living in a large city is having easy access to different types of cuisine. Now, my ethnic food choices are basically Mexican food and more Mexican food. Not that I am complaining because this girl loves Mexican food, but sometimes I just crave a bit of variety. On the plus side, living in a small town means my husband and I don't eat out very often, and when we do, it usually involves a ~30 minute drive or more.
While on my blogging hiatus, I made a list of all of my favorite take-out dishes and decided which ones were worthy of attempting to recreate at home. Indian Butter Chicken was at the top of my list, but since I haven't been eating a whole lot of chicken lately, I wanted to see if it was possible to swap out the chicken for shrimp. Honestly I was afraid that the big, bold spices used in the tomato-y sauce would overpower the shrimp, but after deciding to marinate the shrimp in a few of the spices used in the sauce, I found that I actually prefer shrimp to chicken in this recipe. 😋
My husband, who usually whines like a child about Indian food (or anything that could potentially have curry in it) agreed with my assessment and admitted he quite enjoyed this Indian butter shrimp recipe. Hallelujah! The sauce couldn't be any easier to make: unsalted butter, diced white onion, garlic, grated ginger and a bit of spicy pepper, minced along with various spices, tomato paste and water are simmered, then puréed, before the heavy cream and last of the butter are added to the sauce.
The shrimp is marinated in the same spices used in the sauce, as well as Greek yogurt for about an hour before it gets cooked in the sauce just prior to being served over basmati rice with a couple of pieces of naan.
Including marinating time, start to finish this recipe will take around an hour and a half. While tinkering with this recipe, it is possible to throw the shrimp into the marinade first thing in the morning, do work things, then quickly make the sauce in about 20 minutes or so. You can also toss everything into your instant pot, then use the sauté function to quickly cook the shrimp after you've pressure cooked the sauce. The sauce can also be made up to two days in advanced; the flavors will be way more developed and intense.
Usually, I would serve this subtlety spicy dish with Riesling, but somehow currently don't have a single bottle of it lying around. So, I grabbed the next best thing: sparkling Riesling! If you don't have a sparkling Riesling (or can't find one at a local wine shop — you can buy the delicious 2016 Sparkling Riesling from Odonata here, remember to buy extra because it's that good), reach for an acidic wine that is not too fruity. These are a couple of my favorite acidic Central Coast wines that will pair nicely with this Indian butter shrimp recipe: Morgan Double L Vineyard Riesling ($22), J. Lohr Bay Mist White Riesling ($10), La Marea Kristy Vineyard Albariño ($24 and I totally admit to initially buying it based on the label), and Rabble Wine Company Syrah Rose ($19 — if you ever find yourself in Paso Robles, check out Tooth & Nail and take the obligatory Instagram photo in front of their castle!)
Indian Butter Shrimp Ingredients & Instructions
shrimp, Indian food, make ahead
Main Dish
Indian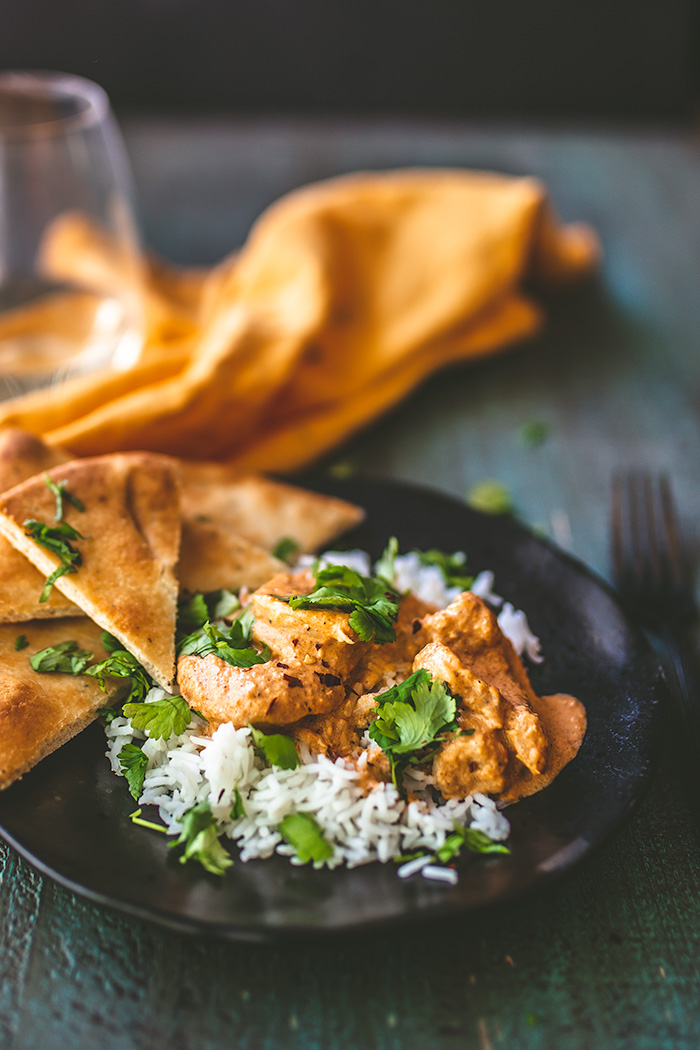 Indian Butter Shrimp
Classic Indian butter sauce can be made a day in advance, while the shrimp is cooked in just minutes. Serve with rice and naan. For a spicy version, add more Serrano Chile and red pepper flakes.
prep time: 1 H & 10 M
cook time: 30 M
total time: 1 H & 40 M
ingredients:
Indian Butter Shrimp
1/4 cup plain greek yogurt
2 teaspoons garam masala
2 teaspoons ground cumin
1 teaspoon ground smoked sweet paprika
1 1/2 teaspoons salt
1 teaspoon freshly grated peeled ginger
1 teaspoon minced garlic
1 pound large shrimp, peeled, tails removed, and deveined
For the Indian Butter Sauce
2 tablespoons unsalted butter, divided
1 cup diced yellow onion
3 garlic cloves, minced
3 tablespoons freshly grated ginger
3 teaspoons minced serrano chile
1 heaping teaspoon garam masala
1/2 teaspoon ground coriander
1 teaspoon ground cumin
freshly ground black pepper
1/4 teaspoon red pepper flakes
3/4 cup water
4 tablespoons tomato paste
1 teaspoon granulated sugar
1/2 teaspoon salt
1/2 cup heavy cream
cooked basmati rice
fresh minced cilantro
instructions:
How to cook Indian Butter Shrimp
In a small non-reactive bowl, combine all the ingredients for the marinade, evenly coating the shrimp. Cover and refrigerate for 1 hour.
While the shrimp in marinating, in a cast iron skillet, melt half of the butter over medium heat. Add the onion, garlic, ginger, and Serrano Chile and cook until fragrant and beginning to brown. Add the spices, and stir with a wooden spoon until very fragrant, about 3 minutes. Whisk in the water and tomato paste and bring to a boil. Remove from heat, and with an immersion blender or in a food processor or blender, puree the vegetables. Add in the heavy cream.
Return to the stove and over medium-low heat, melt the remaining butter and add the shrimp along with the marinate, stirring to thoroughly combine. Cook until the shrimp in cooked through and pale pink, still tender.
Serve while still hot, seasoning with additional salt and pepper, and red pepper flakes. Serve over cooked rice with cilantro and naan, if desired.
Sodium (milligrams)
2202.56
Cholesterol (grams)
294.84